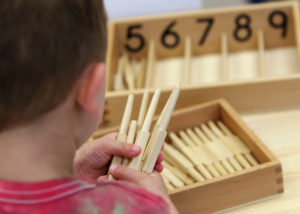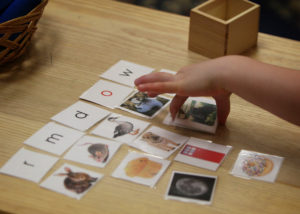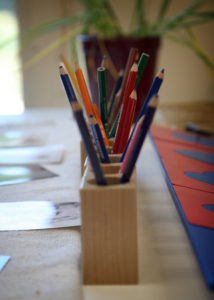 What happens in a Montessori Primary classroom?
The Primary program is for our older students, ages 3 – kindergarten.
The classroom is child-centered, not adult-centered. The guide is not the focus of the classroom. The guide provides a link between the children and the environment, and the children teach themselves through the use of the Montessori materials.
A Montessori classroom is multi-age, with a minimum 3-year cycle. The child stays in the classroom with the same guide for the full 3 years, and the classroom truly becomes a community – and a family. There is a balance of boys and girls, as well as an equal number of each age group. The youngest children learn from the older children through observation, and the older children learn by giving lessons to the younger children. Children are able to move at their own pace, and are not required to be working on the same thing at the same time, as in traditional programs. They also are allowed freedom of movement, which helps them learn how to gain control over their bodies.
Primary students enjoy a long period of uninterrupted work time each day, which allow their self-chosen activities to proceed to a natural conclusion. Having few interruptions, children become deeply engaged, increase their level of concentration, and experience the satisfaction of finishing and idea or task before moving on.
Areas of the Primary Classroom:
Practical Life: Exercises having to do with care of self and the environment, control of movement, and grace and courtesy are presented. Concentration, coordination, independence and a sense of order are developed, forming a strong foundation for future academic work.
Sensorial: Exercises develop sense discrimination, observation skills, and descriptive language. A clear approach fosters the continuing efforts of children to categorize and organize the qualities of the world around them.
Language: Exercises that assist the child in developing receptive and expressive language skills permeate the Montessori environment. There is a strong emphasis on vocabulary enrichment and self-expression. Development of phonemic and phonological awareness provides a foundation for writing and reading.
Mathematics: Concrete activities are presented and introduce the child to numbers, counting, the decimal system, as well as mathematical operations. Careful design of materials in the mathematics area and in the sensorial area lays the groundwork for future learning in algebra and geometry.
Cultural: The cultural area of the classroom provides an introduction to the world around them through history, geography, science, art, music and foreign language.
2021-2022 Kindergarten Art Project